Haute-Couture Embroidery in TUNISIA
On April 16, 2010, Tunisian newspaper "LE QUOTIDIEN" informed him that we had the intention to install a system of teaching with a Convention "Charter High-French Way" for skilled labor in a niche "high value added, "all new to Tunisia, after the presidential project, the" Label TUNISIA QUALITY ", for 2016.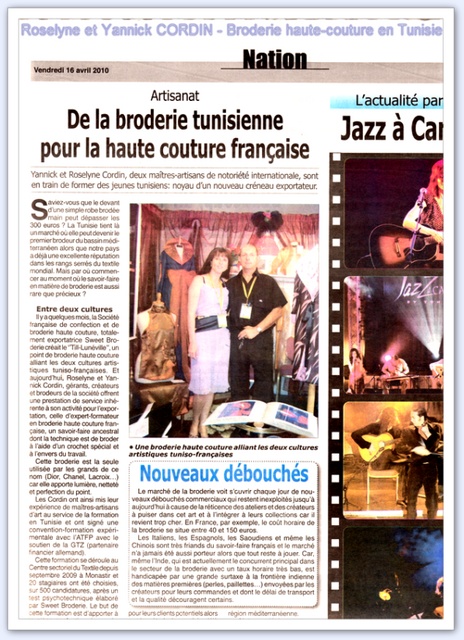 COMMITTEE COLBERT talk about SWEET BRODERIE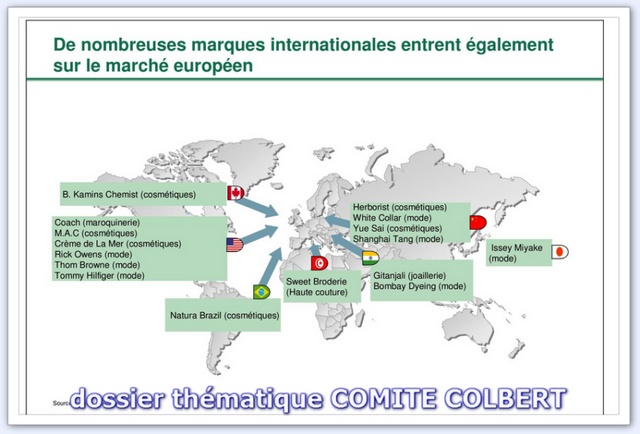 On their thematic dossier of 2008 "THE LUXURY OF AN ASSET GROWTH FOR EUROPE THE TWENTY-FIRST CENTURY" the committee COLBERT talk about our company in the emerging new players in the luxury - P. 9 / 31:

"Arrival of new players is not confined to Europe. " American actors, African or Asian regularly appear and grow in Europe, characteristic of a particular market open, as highlighted in the following examples:
(see map: SWEET EMBROIDERY-TUNISIA). "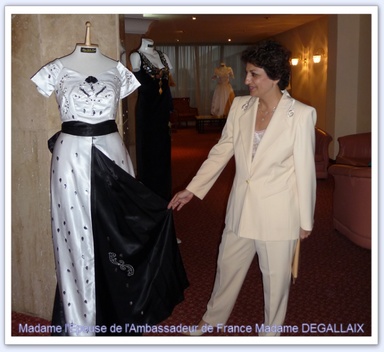 The Embassy of France present the French Haute-Couture Embroidery.
Under the High Patronage Of Mrs The Wife of His Excellency The Ambassador of FRANCE, Mrs F. DEGALLAIX, we present the embroidery French Haute Couture to Tunisia in an exhibition press conference at the prestigious hotel of Tunis, Hotel des Congrès, (ex Abou Nawas).
press article "LE QUOTIDIEN"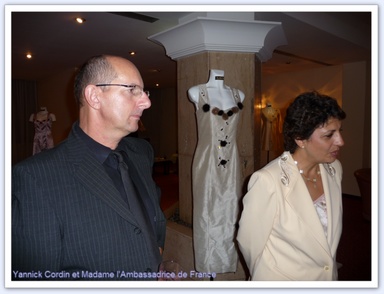 Some Embassadors of differents countries and some tunisian personalities were present for this exhibition.
As well as Tunisian National Press was here to declare all over the country the union of the new tuniso-french technical of Haute-Couture Embroidery "Till-Lunéville".
Press "LA PRESSE" and "LE QUOTIDIEN"
  
press article "LA PRESSE"