IDENTITY OF SOCIETY

SOCIETY : SWEET BRODERIE©

 
ROSELYNE and YANNICK CORDIN
B.P. N° 771 - Rue El Fourat - Cité Jawhara - 4000 SOUSSE
Tél. : +216 73.203.433 - Portable GSM : +216 24.980.117
November 3, 1993: Creation of the proprietorship Sweet Embroidery as CRAFTSMAN-HEAD OF BUSINESS in Angoulême in Charente (16).
Totally self-taught route where envy and passion for embroidery
guided me on the road to the craft.
November 6, 2001 Receiving the designation "ARTISAN" by the Chamber of Trade in the Charente
SINCE OCTOBER 2002: Follow-up training and later advanced to the Embroidery Luneville to acquire the art of embroidery hook for attaching beads or sequins and embroidery ribbon
This is the technique used for hand embroidery design haute couture dresses.
April 5, 2005 Obtaining quality "CRAFTSMEN ART awarded by the President of the Chamber of Trades of the Charente.
SWEET BRODERIE

06 MARS 2006 :  Attribution du Titre
"MAITRE ARTISAN d'ART en METIERS D'ART - Spécialité BRODERIE" par Mr le Préfet de la Région Poitou-Charentes et la Commission Régionale des Qualifications, et Monsieur le Président de la Chambre de Métiers de la Charente.

26 OCTOBRE 2007 : Le couple Roselyne-Yannick crée la Société " SWEET BRODERIE " en Tunisie, à Sousse, et s'installe définitivement en Mars 2008.

Participation at the Show Cultural Heritage
At the Carrousel du Louvre in Paris from 8 to 11 November 2007 .


Know-How Professional
Stages Lunéville embroidery and ribbon, in 2007, school LESAGE PARIS to acquire a "perfection in the art."
It is acquiring a "know-how manual, french ancestral heritage."

Creating models with embroidery and rhinestones - sewing garments woman
With "Creating dresses historic."
Création Innovatrice en 2007, Conception et création de la Charentaise haute couture -exclusivité mondiale-, modèles et la " technique broderie de Lunéville sur la charentaise " protégée à l'INPI Paris.
Création en 2007, de la collection prêt-à-porter de luxe brodée " Haute Couture " et Accessoires Mode
"MAXI BELLE PARIS©", collection sur mesure avec la spécificité collection "femmes rondes" et "futures mamans" à partir de la taille 38-40.


Collection Designed in France, Fabriquée en Tunisie pour la confection, la Broderie .... par nous en personne !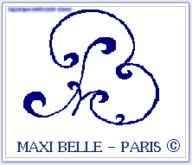 TILL LUNEVILLE © created in June 2008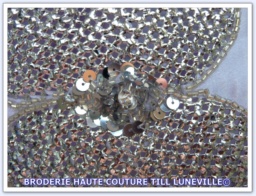 In June 2008, Roselyne CORDIN has created a new outlook combining embroidery:


Lunéville embroidery, embroidery Haute-Couture with embroidery craft Tunisian which is called "Till" (phonetic pronunciation) and made holes or points stem from a metal wire gold or silver Using a needle or very special .


This technique is now internationally protected © INPI
and known under the name "TILL LUNEVILLE ©".

EXPERT TEACHER in TUNISIA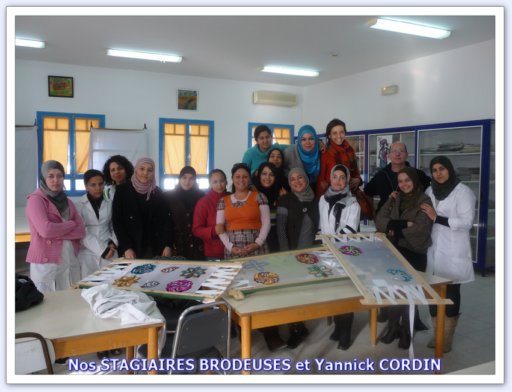 Since October 2009, Expert Teacher Embroidery Haute Couture in Tunisia!
The Ministry of Vocational Training and Employment, Mr Mohamed AGREBI, and the valuable assistance of professional and caring Mr. Director General of the Tunisian Agency for Vocational Training (ATFP) Mr Abdalah BEN Abdalah, gave us their confidence, through a creation of a "luxury club" at the Sectorial Training Center in Monastir Clothing, to train 20 trainees at the haute couture embroidery. A First in the history of Tunisia!
Indeed, the embroiderers of Nabeul and Hammamet pose flakes and pearls to the place of business and the needle only!

JAWHARA CREATION © Trademark in 2011

Creation in February 2011 of our new ready-to-Couture Brand "JAWHARA CREATION" to open commercially in all emerging markets of Luxury (BRIC-Brazil-Russia-India-China) and also: the Middle East , Saudi Arabia ...

COLLECTION DISCREET CHIC and ELEGANT !
Offer to seductive "businesswomen", to active round women, a classic and timeless collection, structured and glamorous line nod to the fifties and sixties, mixed ancestral heritage manual of French "Haute Couture Embroidery" to "standardize "the technique usually used for large fashion shows of haute couture, and to live in" all circumstances ", for" EVERYDAY lIFE ".
Collection

uniting the Black, Authenticity, and Tradition Wellness!


Copyright ©

- SWEET EMBROIDERY - JAWHARA © CREATION